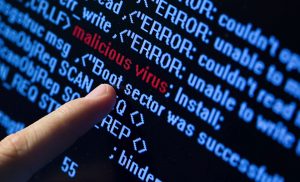 What is malware?
Malware is shorthand for malicious software. It is software developed by cyber attackers with the intention of gaining access or causing damage to a computer or network, often while the victim remains oblivious to the fact there's been a compromise. A common alternative description of malware is 'computer virus' — although are big differences between these types malicious programs.
What is the history of malware?
While Creeper, Brain and Morris are early examples of viruses, they were never malware in the truest sense.
Malware and the malicious code behind it is designed specifically to cause damage and problems on computer systems, while those described above found themselves causing issues by accident — although the results were still damaging.
With the birth of the web and the ability to connect to computers around the globe, the early 90s saw internet businesses take off as people looked to provide goods and services using this new technology.
However, as with any other form of new technology, there were those who looked to abuse it for the purposes of making money — or in many cases, just to cause trouble.
________________________________________________________________________________________________________________________________________________________________________________________________________________________________________________________________________________________________________________________________________________________________________________________________
Computer Repair Ottawa – Snappy Techs Computer Repair & IT Support
ottawa.snappytechs.com/
Computer Repairs Ottawa: We repair PCs & Macs, both hardware and software issues, virus removal, OS Reinstalls, screen replacement, water damage & more.
Snappy Techs – Get Quote – IT Services & Computer Repair – 428 …
https://www.yelp.ca › Local Services › IT Services & Computer Repair
Specialties: Computer Repair and IT Service in Ottawa. We repair hardware and software problems on macbooks and PCs, office network & printer issues and any other computer or IT related problems. Make us your Ottawa computer repair and support…
Snappy Techs – Complete profile – Canadian Company Capabilities …
www.ic.gc.ca/app/ccc/srch/nvgt.do?lang=eng&prtl=1&sbPrtl…F
Company Profile. Web Site design, Hosting SEO, search engine optimization, Computer repairs, Apple repairs, virus removal, macbbook repair, networking, data recovery. mother board repairs, keyboard replacement, screen replacement,. Full profile; Contacts; Description; Products, services and licensing. Full profile …
BBB Business Profile | Snappy Techs – Better Business Bureau
https://www.bbb.org/ottawa/business-reviews/…/snappy-techs-in-ottawa-on-44031
BBB's Business Profile for Snappy Techs, Business Reviews and Ratings for Snappy Techs in Ottawa, ON.
Snappy Techs – 428 Rideau St, Ottawa, ON – Yellow Pages
https://www.yellowpages.ca › Business
Snappy Techs – Ottawa – phone number, website & address – ON – .
Snappy Techs Computer Repairs in Ottawa, ON | 6136068881 | 411.ca
https://411.ca › Business directory › ON › Ottawa › Computer Repair
Learn more about Snappy Techs Computer Repairs | Ottawa, ON. Find directions and contact info, read reviews and browse photos on their 411 business listing.
Snappy Techs (@Snappytechs) | Twitter
https://twitter.com/snappytechs?lang=en
The latest Tweets from Snappy Techs (@Snappytechs). computer repairs,Virus removal , web site design. ottawa.
Snappy Techs- Computer repairs – YouTube
Video for snappytechs▶ 0:59
Nov 15, 2017 – Uploaded by Bantu Tv
Snappy techs computers repairs is located on 428 Rideau St, Ottawa. 613-606-8881 www.snappytechs.com.
Shout out to Snappy Techs Computer Repairs for being out Sponsor …
www.runwayforhope.ca › Sponsors
Oct 22, 2016 – We want to say thank you to one of our sponsors, Snappy Techs Computer Repairs and IT support for their work with Runway For Hope. They were able to help us with our screen presentation at our last event. They are also the Ottawa website design company that provides service and support for all our …
Downtown Rideau BIA » Snappy Techs Computer Repairs
www.downtownrideau.com/member/snappy-techs-computer-repairs/
Services & Organizations. Snappy Techs Computer Repairs. We are your Ottawa computer repair experts. We fix computer problems on Macbooks, PC & Tablets. We also do computer virus removal and data recovery.
Searches related to snappytechs
computer repair ottawa
laptop repair ottawa
computer geeks ottawa
computer repair carling ave ottawa
ottawa pc repair
macbook repair ottawa
computer repair ottawa reviews
laptop clinic ottawa
1
2
3
4
5
6
7
8
9
10
Next
Image
See photos
Map of Snappy Techs Computer Repairsmap expand icon
Image
See outside
Snappy Techs Computer Repairs
4.4
58 Google reviews
Computer repair service in Ottawa, Ontario
Address: 428 Rideau St, Ottawa, ON K1N 5Z1
Hours: Closed ⋅ Opens 10:30 a.m.
Phone: (613) 606-8881
Province: Ontario
Suggest an edit
Snappy Techs Computer Repairs
Snappy Techs Computer Repairs
on Google
How to Prevent Computer Virus Infection A computer virus is a software program which is a…
13 mins ago
Learn more
Questions & answers
Be the first to ask a question
Reviews
"Could not be happier with the service received with Snappy Techs."
"Punctual and Top notch job for an unbeatable price."
"Great work, it's obvious they have experience and know what they're doing."
View all Google reviews
People also search for
View 15+ more
Bill & Dave Computer Repair
Bill & Dave Computer Repair
Computer Repair Service
Laptop Clinic Ottawa
Laptop Clinic Ottawa
Computer Repair Service
Tech2Go
Tech2Go
Computer Repair Service
Canada Computers & Electronics- Ottawa Rideau
Canada Computers & Electro…
Computer Store
The PC Room
The PC Room
Used Computer Store
Feedback
Canada J8P 1N9, Gatineau, QC – Reported by this computer – Use precise location – Learn more
HelpSend feedbackPrivacyTerms
Snappy Techs Computer Repairs
Snappy Techs Computer Repairs
14 mins ago