RAM Upgrades for Macbooks & iMacs in Ottawa
RAM Upgrades For Macbooks and iMacs is one of our core computer hardware repair and support services here in Ottawa. RAM upgrades are mostly about performance boosting for any computer. Most people usually are okay with off-the-shelf Macbooks and iMac without any customizatons or add-ins. But when you are running computer resource intensive applications, such as computer games, graphics software and sometimes even just too many applications at once, you may find that your Macbook or iMac starts to slow down, and this may primarily be because the amount of RAM is too low.
What is Computer RAM?
Computer Random Access Memory (RAM) is a type of computer memory that is used by programs when they are loaded, and during task execution for storing data temporarily. This type of memory is addressable, and therefore data can be accessed directly and randomly.
Why upgrade Computer RAM?
RAM upgrade is mostly about being able to run many programs at once, and it is also about speed of computations for certain programs that require a large amount of space. While a RAM upgrade does not necessary speed up processing, it can be a performance bottleneck if you have too low an amount of RAM. The reason for the bottleneck is that your programs will have to rely on your slow hard drive for swap space and temporary storage during execution.
Do you need a RAM Upgrade
Generally, if you are using programs like Photoshop, Video Editing software like Adobe Premier, in combination with Google chrome, firefox and media players,  and your RAM is lower than 8GB, we recommend an upgrade.
What Kind of RAM do you need?
RAM upgrade involves knowing what RAM is compatible with you Macbook or iMac, and this requires some technical knowledge. You can rely us to find compatible RAM for your computer.
Installation & Compatibility Testing
We work to ensure that the most compatible and best performing RAM upgrade is done on your device
Quality Parts
We source industry standard and high performance parts from the most well respected RAM manufacturers
Always Up-to-date
We keep abreast of the ever changing computer IT and repair field to ensure that every support and service we do is according to the newest and most up-to-date way of doing things.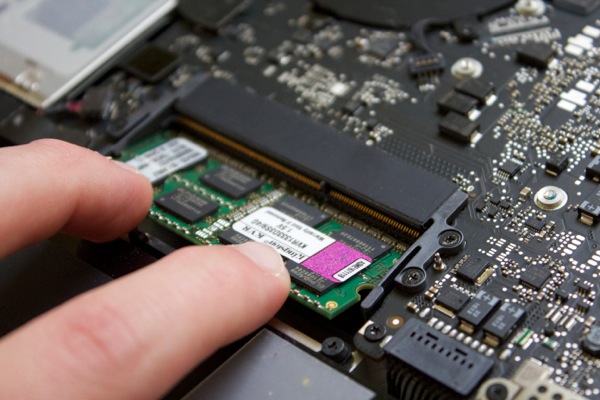 Need to Upgrade Your Macbook or iMac RAM?
Save your time and effort, get expert help and leverage Snappy Techs IT Support for all your Macbook and iMac Repairs, Upgrades and Support